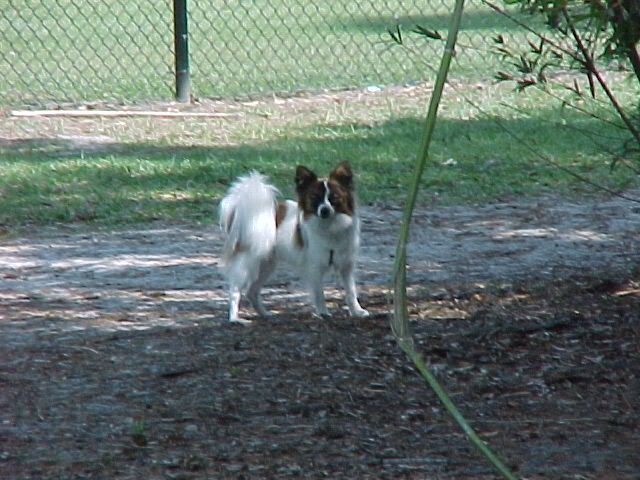 Have you got a dog who would rather play with you than a toy--24/7? Or perhaps your pup is the first to greet every human that enters the park? And then there is the doorbell. Of course, that human out there is here to see the dog. Right?
That's Oliver. While he does occasionally take an interest in his toys, it is not often enough for me. I have to grab the camera quickly when he becomes playful near the toy basket. More often than not, his preference is to play with me or Tanner's ears and tail. Fortunately, Tanner rather enjoys the attention and is extremely easy going about Oliver's enthusiasm.
So what's the problem, you ask? There are those times when a toy is preferable to Oliver wanting to play with me. Despite what you see on this blog, I do have other activities to fit into my days, not to mention another blog to attend to.
Even at agility classes, I am learning that Oliver will need to eventually enjoy a toy for his reward, rather than a treat. Treats are not allowed on the competition agility courses. Oh dear! If there's one thing that Oliver definitely is, it is FOOD MOTIVATED. Treat training works really well for him, even though the treats are itsy bitsy, teeny weeny. They have to be or he'd be 20 pounds by now and looking more like a bull dog. Then we'd be headed for the canine version of the gym and Doggie Weight Watchers.
This morning when we went to the dog park, we were the solitary visitors--first time ever. I discovered quickly that Oliver has no use for the dog park when there are no dogs or people to greet. I played fetch with Tanner for nearly 45 minutes, while Oliver spent most of that time lounging in the grassy shade of an enormous oak tree near the gate. Yes, you heard me right. He laid near the gate, just waiting to go home. I was shocked!
When I finally approached with his leash, he jumped up on the gate and gave clear indication he was READY to go. It was as if he was saying, "I'm no outdoorsman mom. I wanted to socialize. Where is everyone?"
So, what is my plan? Use the treats that he so dearly loves, to motivate him to play with toys and explore the outdoors. The treat pouch is back on my shorts, and I'm in training mode once more. It's time to get this boy to play with toys. I'm going to dig out the dog game book and teach him some ways to enjoy his toys. Hurray. I found this book on Amazon and have placed a photo link to it right here, so you can order it too, if you like.
What's Oliver doing right now? Standing at my computer chair, imploring me to allow him on my lap. Maybe he's really a cat...hmmm?
Here's your opportunity to chime in. I could use the advice today. What would you do to encourage your toy dog to play with toys and explore your yard? Ideas? Hit the comment link next to the envelope icon and shoot me some thoughts. Thanks!
Look! It's a Papillon activity book; just what I need. I'm going to order this one.
One last note: I have a guest post on Ecodater, helping green singles with doggie date ideas. Stop in and check it out. Then go have some fun with your dogs....and your date.