NOTE: All Things Dog Blog is currently over-committed for product reviews and giveaways. We'll be happy to work with you on advertising or Twitter Parties. Thanks again for your interest.
If you're a pet product maker or service provider, you're probably here to get some promo for your business. We would love to help you promote your pet product or service. Here are your choices. Feel free to read the more detailed sections below this initial listing. If you have questions or are ready to proceed with either advertising or a Twitter Party, drop us an email at LetsAdoptaDogPark@gmail.com (for advertising) or EventBarkers@gmail.com (for Twitter Parties).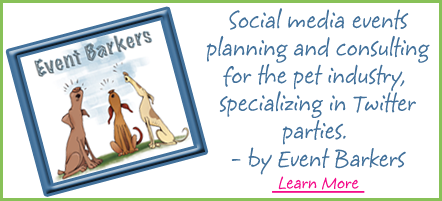 How May We Help You?
Advertise

here with buttons, badges, and banners. We have a variety of sizes, placements and options to suit every budget.

Twitter Party or Chat

in a variety of formats and lengths.
Advertising with All Things Dog Blog
Buttons and banners can be placed in a variety of sizes, positions and options to suit every budget. The best place to start is by dropping us a line at LetsAdoptaDogPark@gmail.com with information on what you'd like to accomplish, and what your budget is for this goal. We'll work with you to come up with something within your parameters.
Banner ads
Possible locations, depending on availability, include:
The Great Dane: full sized header banner beneath the blog header
The Golden Retriever: To salute the beginning of every blog page, this will be at the top of the main posts column.
The Basset Hound: Placed in the footer at the bottom of the blog, full width and low like a Basset Hound, assuring that our reader will see your ad just as they finish reading our page.
The Springer Spaniel: The opposite of the Golden Retriever, this ad will cap off the bottom of the posts column.
The Junk Yard Dog often lies out of site, until visitors appear. This is what I call the in-post banner ad because it is only seen when a reader visits this carefully-chosen post.
The Papillon: A banner shaped ad in the sidebar can bring more attention than a link, while still using little sidebar space, meaning less cost to you.
If you are interested in banner ads, please write to me at LetsAdoptaDogPark@gmail.com with your advertising budget and time frame. We will get back to you with available placements and costs that will help you meet your goals.
Sponsor a Twitter Party or Other Themed Event to Promote Your Product:
Twitter Parties are one of the newest ways that you can get the word out about your product, service or cause, to massive numbers of Twitter users. A well-planned, themed Twitter Party will include 2 co-hosts along with myself, coordinating planned conversations, product giveaways designed to build excitement over your product while attracting participants, and discussions between participants and a guest expert.
Twitter party conversation can also be designed to get information out in small blurbs that fit into single tweets. Often this makes a great way to help those new to your concept to understand it more thoroughly--small amounts at a time.
Themed Blog Hop Events
bring large numbers of blogs together with their links all located on one another's pages. This exposure for your brand can be huge, as all readers/visitors to each of the participating blogs will be able to see and access our event planned on your behalf. Once again prizes serve as a lure to participants, and information on your product or service will be made available through our blog post and any coordinated events such as Twitter Parties or Scavenger Hunts.
Note that to maximize the value to your brand, a combination of these events is often your best approach. Your budget, however, is where we must start to create a plan for you. We would need to understand your goals in order to present a plan that works. Fees for these promotional events vary widely based on your goals, anticipated participation, prizes offered, experts required, event design complexity, and other details. Please contact me at LetsAdoptaDogPark@gmail.com with as much detail as possible. I will be in touch soon.
I reserve the right to approve or disprove of any ad copy or image that does not align itself with my blog's themes or values. Product reviews that do not go well may be passed on. You will be notified if this happens. The information in the above sections may be changed without notice. Current advertisers will not be affected by rate changes during a commitment period.