by Carrie Boyko, CEB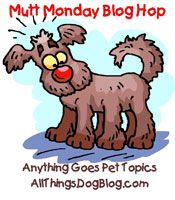 Yesterday was an important day to many pet bloggers. Be the Change for Animals is a quarterly event that encourages each of us to share a cause we would like to bring more attention to. A blog hop allows us to share and easily view many of the varied posts on all sorts of animal causes. This event is sponsored by BtC4Animals.com.
In a way it reminds me of the name of today's event: Mutt Monday is an Anything Goes Pet Topics event that occurs weekly. Here bloggers can share their last week's posts on any pet topic they wish. We hope you will check out the posts at Be the Change for Animals as well.
Happy tails!