by Carrie Boyko, CEB
© AllThingsDogBlog.com
My Threesome Poses on Earth Day, 2010
I've made no secret that our family strives to live greener. We're not THOSE people who ride their bikes everywhere and eat only what they garden themselves, but we do what we can. Today I'd like to share some easy ways that you can offer a taste of the organic lifestyle to your own days, allowing your dog to benefit from a more natural life as well:
Most dogs sleep through the night as well as spending a few hours each day in nap mode. Spending that much time on a bed warrants an organic surface. If going organic with your cover is not an option, think about buying a bed made with recycled insides. There are many brands available with recycled bottle or foam interior cushions.

Same deal with pet toys--recycled or organic. They are available from numerous makers. Just read the labels at the smaller pet supply shops where you'll find more of these Eco-friendly brands.

Watch that packaging. It sort of defeats the purpose to buy an Eco-friendly product in a bulky, plastic package. Watch for reusable or recyclable packaging whenever possible.

Compost or properly dispose of your pups yard deposits. Products like Doggie Dooley for home use and Flush Puppies for your walks can help tremendously.

Times are tough for many families. Buying organic food is a wonderful choice when money is available, but I do realize it is not a plausible choice for everyone. If you can, choose organic in either Fido's food, treats, or snacks. Carrots, apples, cheese, yogurt and other ingredients you may use for homemade goodies are widely available in organic form. These products will not introduce toxins into your dog's system that will strain his liver and challenge other organs in his body.

Homeopathic pharmaceuticals are often very useful with pets. Consult a properly trained Homeopath for recommendations.

Choose collars and clothing made from natural fibers (cotton, bamboo, and hemp are widely available) that are not dyed with synthetic colors which can be absorbed by Fido's skin or cause irritations in some sensitive pups. Nylon production emits nitrous oxide--a type of greenhouse gas associated with global warming.

When choosing grooming products and other topicals, look for products made without food coloring, preservatives, parabens, and not packaged in plastics that include phthalates and BPA.

If you grow your own organic fruits and vegetables, be sure to secure the area where the produce that are toxic to your dog are planted--taller fencing or some other method of separation. Dogs should not eat onions, garlic, avocado, macadamia nuts, black walnuts, many fruit seeds, mushrooms, nutmeg, grapes, raisins, raw eggs, tomato plants, potato (skin or interior?) and added salt. I encourage you to consult other sources for additional lists, as well as checking your houseplants and those outdoors that your dog has access to.

Choosing non-toxic, eco-friendly cleaners is becoming much easier these days. So is making your own cleaners with vinegar, lemon juice, boric acid, baking soda and other simple ingredients. A quick search online will have you up and running with a budget-friendly cleaning plan that will also lead to a healthier home environment.

Opt for a safer, greener yard for Fido to play in, and you'll be contributing to a healthier Earth. Pass on synthetic fertilizers, weed killers, pest control and choose natural versions that enhance your soil's health as well as easing the burden on our Eco-system. Even pests that annoy our pets, such as fleas and ticks, can be kept at bay with treatments of Diatomaceous Earth and peppermint oil sprays. Food grade treatments of these two topicals, as well as cedar oil and others, are a healthier alternative to topical flea and tick prevention. I've had tremendous success with these methods and can't say enough good things about them. Questions? Fire away!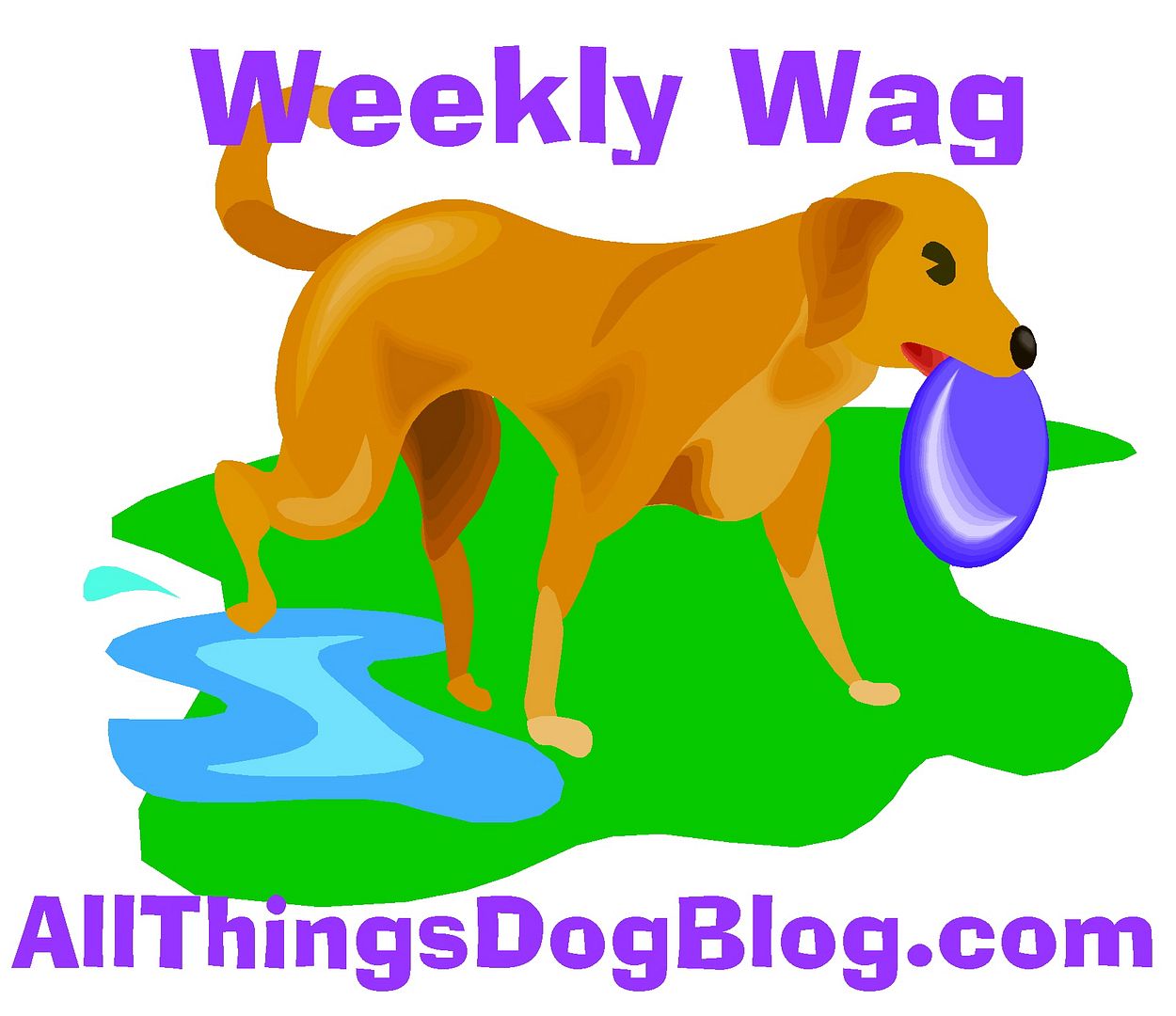 Wondering how all this green living nonsense will help you bond with your dog? I guess I'll call it time. I'll tell you that my cancer-ridden dog, Xena, lived a full 3 years after her cancer diagnosis. When her
doctor shared that her cancer was likely from an environmentally-derived source, we switched out the entire home to organic--food, cleaning, lawn care, you name it. She thrived until the day she passed after a seizure at nearly 14. She had played tag and wrestled with Tanner that very morning. You tell me; is your dog worth it?
If you need tips or motivation, write to me. I'm happy to help: AllThingsDogBlog@gmail.com. And further, keep in mind that comments on the Weekly Wag are welcome at the inaugural post, where drawings are made each quarter. The end of June will be the next drawing when some lucky Wagger will win a nice prize. Share your thoughts and see what others have shared about bonding with their dogs.









This post is part of the
Saturday Pet Blogger Hop
hosted by
Life with Dogs
,
Two Little Cavaliers
, and
Confessions of the Plume
. You are welcome to link up here, or check any of their sites for their rules of participation. Happy hopping!