by Carrie Boyko, CEB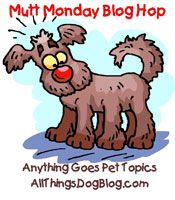 The holidays are here and I find myself more behind than ever. How about you?
Suddenly Dr. Mark's column has a bunch of questions, underscoring the popularity of his column and the need for quick answers to our pup's problems. Watch for tomorrow's edition of his helpful health info.
Speaking of dog health, the first of the month has just passed. Have you made sure Fido got his heartworm prevention?
Enjoy the hop and be sure to help get the word out. This is a No rules pet hop so join us and spread the word. I'm getting a late start today, so we'll be open through Tuesday night. Feel free to link up here and over at Tasty Tuesday!
Happy tails,