by Carrie Boyko, CEB
© Carrie Boyko
Tanner Demonstrates "Go Jump"
This week's K9 kamp had me, Tanner and Oliver back in agility training and having some fun with our workout step. I'll have to admit I had to dust that bad boy off after storing it under my bed sometime ago. We also discovered our core ball and wondered if we'll be getting an intro to Treiball via kamp. Hmmm.....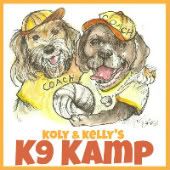 The good news is the dogs still remember the "Go Jump" command and they seemed totally entertained watching me step up and down.
Despite my travel to Barkworld, the boys and I were able to pull off a reasonable hour plus to just make the minimum workout. Whew!
As I write this post I am waiting on my return flight home, ready to get back to a good dog walk after a few days of hobnobbing with fellow social media enthusiasts. What do you suppose Koly and Kelly have in store for us this week? Whatever it is, I'm glad to be home and dig in again. Happy tails!